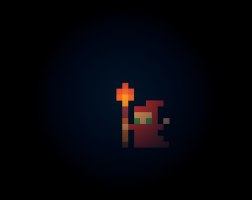 A-maze-ing Mess
You summoned the Great Old One by accident messing with some old books... Clean this mess looking for the Grimoires that will help you stop the ritual.
Explore the maze looking for the Grimoires , use the torches to stoke the torch fire, if the torch goes out the darkness will consume you.
There's three kind of keys to open the three kind of doors. You only can carry 3 items at the same time, so be careful what you leave behind.
KEYBOARD CONTROLS
Arrow keys -> Move
Space/E -> Interact
CONTROLLER CONTROLS

Left Joystick -> Move
South Button (A/Cross...) -> Interact
Ghost Story by Kevin MacLeod
Link: https://incompetech.filmmusic.io/song/3805-ghost-story
License: http://creativecommons.org/licenses/by/4.0/
Download
Click download now to get access to the following files:
A-maze-ing Mess - Windows (LD46 Submission)
23 MB
A-maze-ing Mess - Linux (LD46 Submission)
25 MB
A-maze-ing Mess - OSX (LD46 Submission)
22 MB
Comments
Log in with itch.io to leave a comment.
Interesting maze, quite stressing to remember! cool gamefeel, congrats!
same here man. really liked this one
The ldjam webpage is giving me all kinds of leaving comments type headaches. I needed you to know that this is my favourite game from LD46 that I have played so far. It's very simple and very immersive, I'm going to come back to this one. Thank you for making this!
Thank you very much for your kind words, it means a lot. I'm very happy that you liked the game, thank you for playing it!!